We help teachers fully manage the online classroom
Understand and manage your Google Classroom and students' online engagement better.
Google + GAT for Teachers: Online teaching with no distractions!
What is GAT for Teachers?
GAT Labs is the global leader in Google Workspace management, auditing and security.
We've built a powerful toolset tailored around every step of your online teaching journey.

From easily getting those essential insights right — to taking immediate action and staying in control ALWAYS with real-time management capabilities.
What you can do with GAT for Teachers:
Get the insights ''that matter the most'' to spot any behaviour that requires your attention.
Take prompt action & follow up in real-time to optimise your digital learning environment.
No more classroom management hassle. Save that time for what you do best — teaching.
Ready to transform your digital classroom?
Google Classroom Insights where it matters the most!
Most of the challenges teachers face in Google Classroom are linked to 'visibility' — or rather the limitation of it.
With that in mind 'Classroom Insights' gives you a full view of ALL your created classrooms at a glance.
Get a broad sense of REAL attendance and engagement, beyond the traditional log-in/off checkmark.
Powerful real-time monitoring & management for students' Chrome browser sessions
'Teacher Assist' is designed to complement and enhance Google Classroom, helping you get the most from what you have.
Analyse and manage students' screens, take quick actions when needed to refocus students' attention, ultimately optimizing their  online learning experience.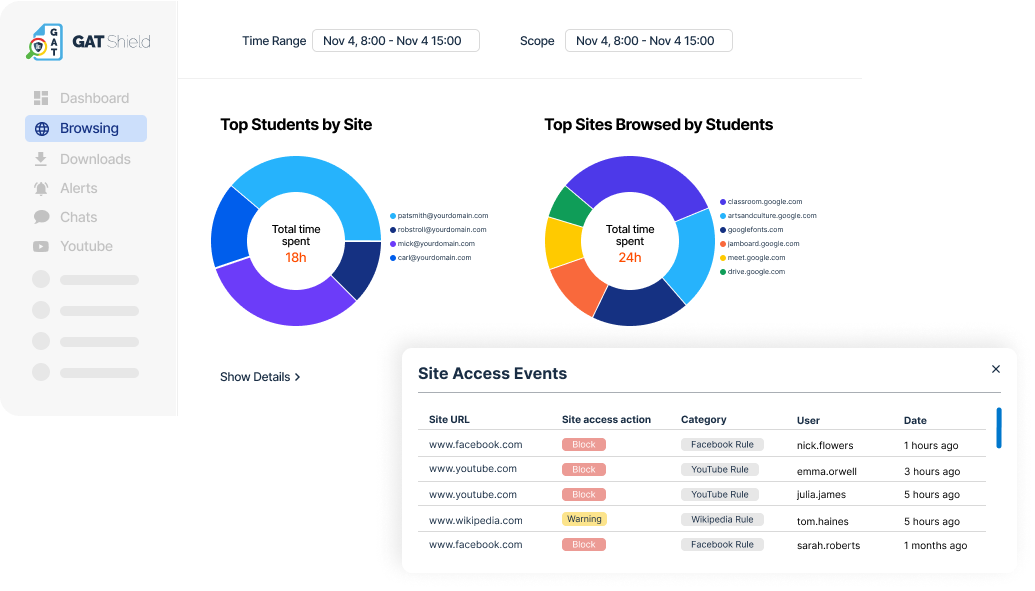 Time to shield up! — From inappropriate words & phrases to unapproved websites & more...
We understand the many challenges teachers face when managing students' online behaviour in the Chrome environment.
'GAT Shield' helps you view the timeline of students' entire online activity, create alerts for bad language, specific keywords and search queries.
You can also escalate violations by capturing a violation string, taking a screenshot or an image of the user performing the violation.
No other tool offers as much oversight of students' Google Workspace activity.
YouTube audit, analyse and report on all channels and videos uploaded and created by your students —with the option to delete any unauthorized channel.
Bulk manage students and classrooms.

Perform complete content searches of all students' Drives, Emails and Calendars.
View all third party applications installed. Set up a policy to ban or trust identified apps for your students.
BONUS: Hundreds of reports and bulk actions for School Admins and Management.
Discover the power of automated workflows —save time on repetitive tasks in Google Workspace.
Onboard new users automatically and seamlessly in bulk.
Offboard leavers automatically and smoothly in bulk.
Modify users automatically and effortlessly in bulk.
Experience the power of automation by building a workflow that will trigger any given set of actions every time a user is added to an OU or email group.
Discover how Management & Security Services can give you deeper insight and on-call, personalized assistance.