Secure your browser, Enhance data protection & Get detailed reporting on browser usage.
No other tool offers continuous, live, in-browser 3-factor authentication for Chrome users.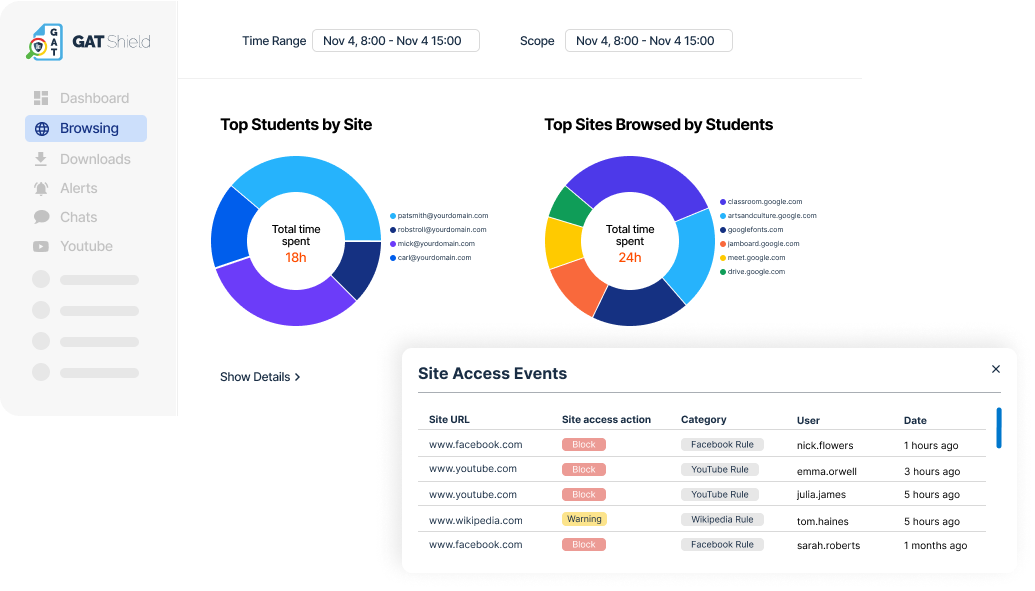 100s of reports and bulk actions for Admins and Management.
Chrome auditing, reporting & security
GAT Shield is a powerful audit, reporting and security tool for your school's Chrome environment.
It protects your users by monitoring all activity and providing real-time Data Loss Prevention (DLP) on all sites, in all locations and at all times.
Shield offers granular Chromebook management, Chromebook tracking, Chromebook monitoring and much more…
Get LAN like usage visibility over your Chrome-based cloud users.
Real-time data loss prevention (DLP)
For Cloud browsing content, GAT Shield's Reg. Ex. DLP is the safest real-time option in the market.
Push Reg. Ex. rules that you select or build for DLP — These rules  run in-situ on your infrastructure (Our GAT servers never have to see the content).
They're also real-time and all-encompassing. This means not only do they cover email and Drive file content as it's typed (even before Google does) — they also cover every other aspect of your users' browser-based activity.
Whether your users are on an e-commerce site, Facebook or any other site, GAT Shield has got their back.
GAT Shield provides real-time alerting of all users, in all sites at all times. Create your own rules,  whitelist or blacklist sites for any given user, OU or group. Keep track of sites visited, downloads, chats, keyword searches and much more.
You can also delegate access to any regular user or principal to any given OU or group so they can run audits easily.
Every Chrome Interaction in ONE Place
See the exact browsing behaviour over a certain period of time for any user, group, class, etc.
Investigate a specific activity for any user, on any site and at any time. See the exact device and location from which the activity occurred.
See, for any selected user and day, the timeline of their entire online activity, showing both when the visit occurred and the duration of the visit.
Sites are arranged according to total visit duration. This allows you to quickly see where the bulk of any user's online time is spent.
We included word cloud to 'Search audit' in GAT Shield. This helps highlight what your users are searching for. 
Use Shield to alert on file downloads of a particular type. Manage downloads across all your 1:1 Chrome Devices with a few clicks.
Enforce automatic deletion of certain download file types.
User/Device Geo Reporting
See exactly where your Chrome devices and browsers are being used.
View details like region based on a longitude and latitude box, internal and external IP address, geo-location, Carrier, user and time of activity. 
Set an alarm or block activity outside of approved geographic zones.
Use our powerful filtering options  to create policies that block sites, access to personal Gmail, Hangouts, as well as entire site categories.
With GAT Shield you can easily configure and apply any filtering policies to any user, OU or group.
Everything is managed from one place!
Not only do we protect in real-time, but we can also monitor and log in incredible detail. Your rules are pushed to the Chrome devices you control.
Configure that alerts only (and not content) are sent back to you. If you need more detail, you can escalate to capture the violating string, the actual screenshot, or the image of the user performing the action.
Ready to give GAT Labs a try?
Meet the powerful GAT Suite
The most powerful toolset yet developed for Google Workspace.
Get in touch with us to receive a FREE demo or simply learn more about our products 👇