GAT+ is a powerful audit and security tool for Google Workspace. It provides admins with an extensive and detailed overview of their entire domain.
Email audit is one of the many features GAT+ offers, whereby Google Workspace admins can view all incoming and outgoing emails across their domain.
Email audit #
Run different reports for all emails coming into your domain.
Email stats by the size of emails received/sent #
Navigate to GAT+ > Email > User statistics
There you'll see Email stats for your domain users. You can see the size of received and sent internal and external emails
In "User statistics" click on Column visibility and enable the fields.
Bytes received external
Bytes received internal
Bytes sent externally
Bytes sent internally
Daily Email statistics #
Select a user and pick a date.
User statistics – navigate to User statistics
Daily statistics – click on Daily statistics

Select user and Date > Filter data
The result will show the user and the bytes of sent/received internal and external emails for the chosen day.
The result can be exported into Google Sheets or CSV.
Scheduled Email audit report #
This can also be set up as a Scheduled report.
Monthly Email audit report #
The Admin can also apply a more extensive filter for a longer period of time. Per month for example.
Apply a filter in User statistics
Type – change type to Stats by date range and users 
Date from – enter date from
Date to – enter date to
Local user – enter local user, group, or org. unit
Scheduled – click to set up a Scheduled report (optional)
Apply – run the filter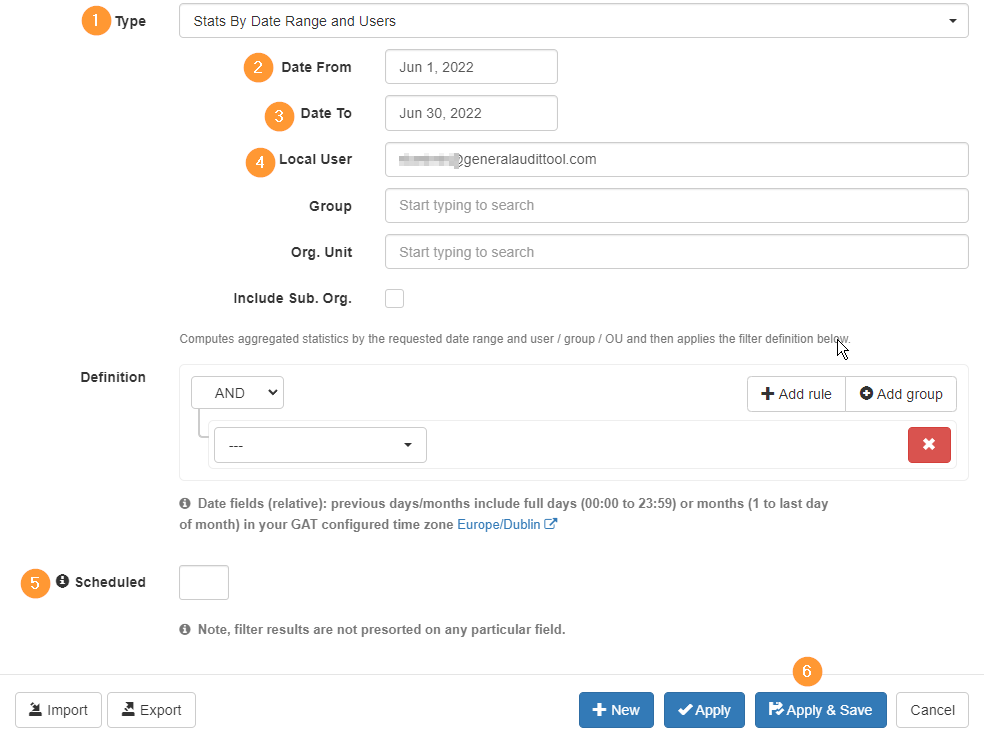 Result of monthly data #
You can see the chosen user and all the data (bytes) sent/received by internal/external users.
The "Email" will show the user from which the email was sent or received.
Dave from Sales@gatlabs.com
Dave from Dave@gatlabs.com