We provide a new feature to report all devices used in your domain. This cloud identity audit shows a very detailed view of all devices that are used to log in to the domain.
You can do it now with GAT+ which is a Google Workspace audit tool that provides a highly detailed internal view of the entire domain.
Devices Report #
Step 1. #
Navigate to GAT+ > Audit and management > Devices (1)
Step 2. #
Find the list of all the devices reported with Cloud Identity – devices from Google (2)
Note: This might have similar data as reported in Chrome OS devices and Mobile devices audits.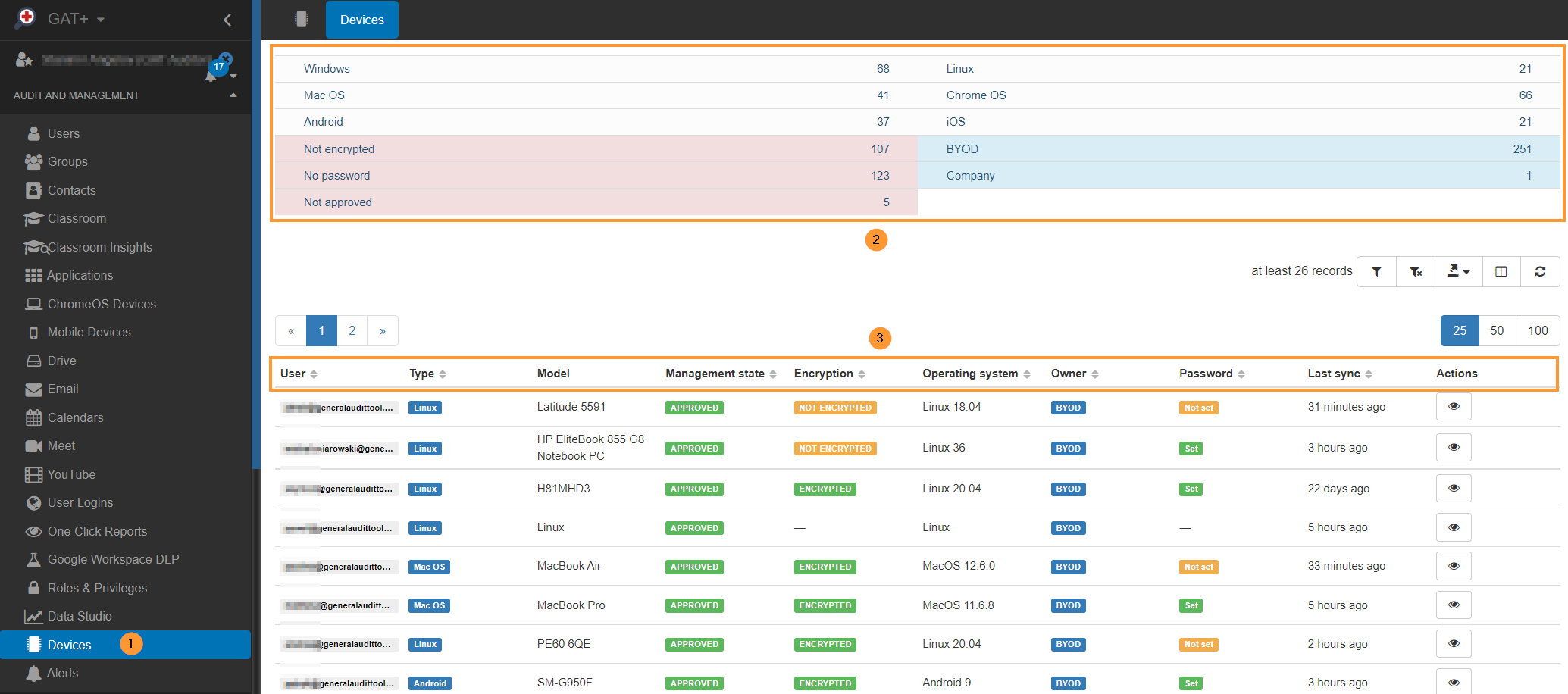 Step 3. Table View #
The top table (3) will show aggregated filters.
Type  – shows devices by their type:

Windows
macOS
Android
Linux
ChromeOS
iOS

Security – shows the number of devices:

number of not encrypted devices
number of no passwords set on the device
number of not approved devices

Owner – shows the owner of the devices:

BYOD – Bring Your Device
Company – Company-owned Device
Step 4. Metadata #
Click on the eye icon under Actions (1) to view all the specific device details.
The metadata will show all the users and the devices each user used to log in and access the domain.
You can view the Type of device use each user of the domain, the Operating system, if the device has a Password set up or not, if the device is Encrypted or not, the last time the device synced to the domain, and many more filters available.
Step 5. Export data #
The data can be exported into Google spreadsheets or CSV files (1)
Step 6. Filters #
Multiple filters can be applied to find specific users or devices and much more.
Click on the funnel icon on the right side below (1) to define specific device filters (2)
Related Posts #