Teacher Assist is a tool that allows the teachers of Google Classrooms to view, control and manage their students' browsing activity. The teacher can view the students' browsing activity live and manage it in the Teacher Assist classroom session. This is recorded as part of Shield browsing activity.
Step 1. #
The teacher can start a classroom session and view and audit browsing activity in real time.
Firstly, navigate to Teacher Assist > Classrooms > Start session.
Step 2. #
You can access Classroom insight directly from the Classrooms tab.
The Teacher can view all the classrooms they have and select the Classroom insight for each of them.
For this purpose, navigate to Classrooms > Classroom insight tab (the eye icon).

Step 3. #
In Teacher Assist tool we have Classroom insights audit which shows the students' previous classroom activity.
It allows the Teachers to view all the information for the classroom correspondingly:
People – view the users of the classroom itself

Teachers – list of teachers
Students – list of students

Classworks – the classworks created for the specific classroom

Classwork details – name, due-date , average grade given for all students on the particular classroom, description

Grades – view the details

Class average – view the class average for each classwork and individual users grades

Browsing activity – view the browsing activity for each student from the selected classroom
Result #
The browsing activity is the audit of all the activity of the students for any chosen day.
Pick a day – select a day from the calendar option
Students – view each student who as "active" for the given day and an audit of all the sites they visited and for how long they were opened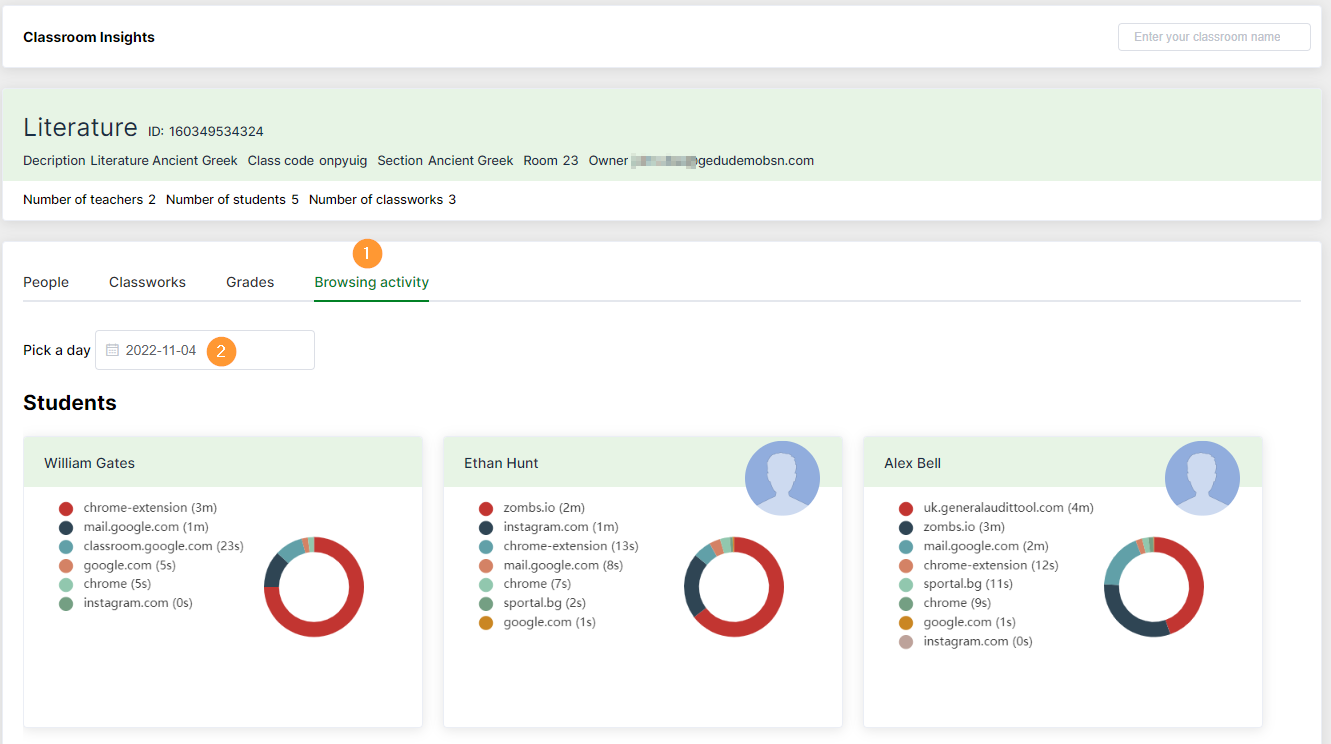 You can view the Classroom insight directly in Classroom insight audit.
To view it, navigate to Teacher Assist > Classroom audit > filter for specific Classroom name.
On the top search bar enter the classroom name.
As a result, you will see the classroom insight and find "previous browsing activity".
Related Posts #