GAT Flow is a user management tool part of the GAT+ set of admin tools Admins perform multiple automated actions on the users.
Delay on workflows #
The Admins can add "delay workflow" before and after any of the Actions available.
This delay is used to separate the actions and when they are run.
Example:
Add email forwarding to selected delay few days then remove the forwarding
Below is how this can be done.
Create workflow #
Navigate to GAT+ > Flow > Create workflow 
Note: This delay can be used for Event and Recurring workflows too.
Fill in the details for the Workflow type
Name – enter a name for the workflow
Description (optional) – enter a description for the workflow
Type of workflow – Modify 

Offboard and Onboard can also be selected

Next – click to proceed and select the users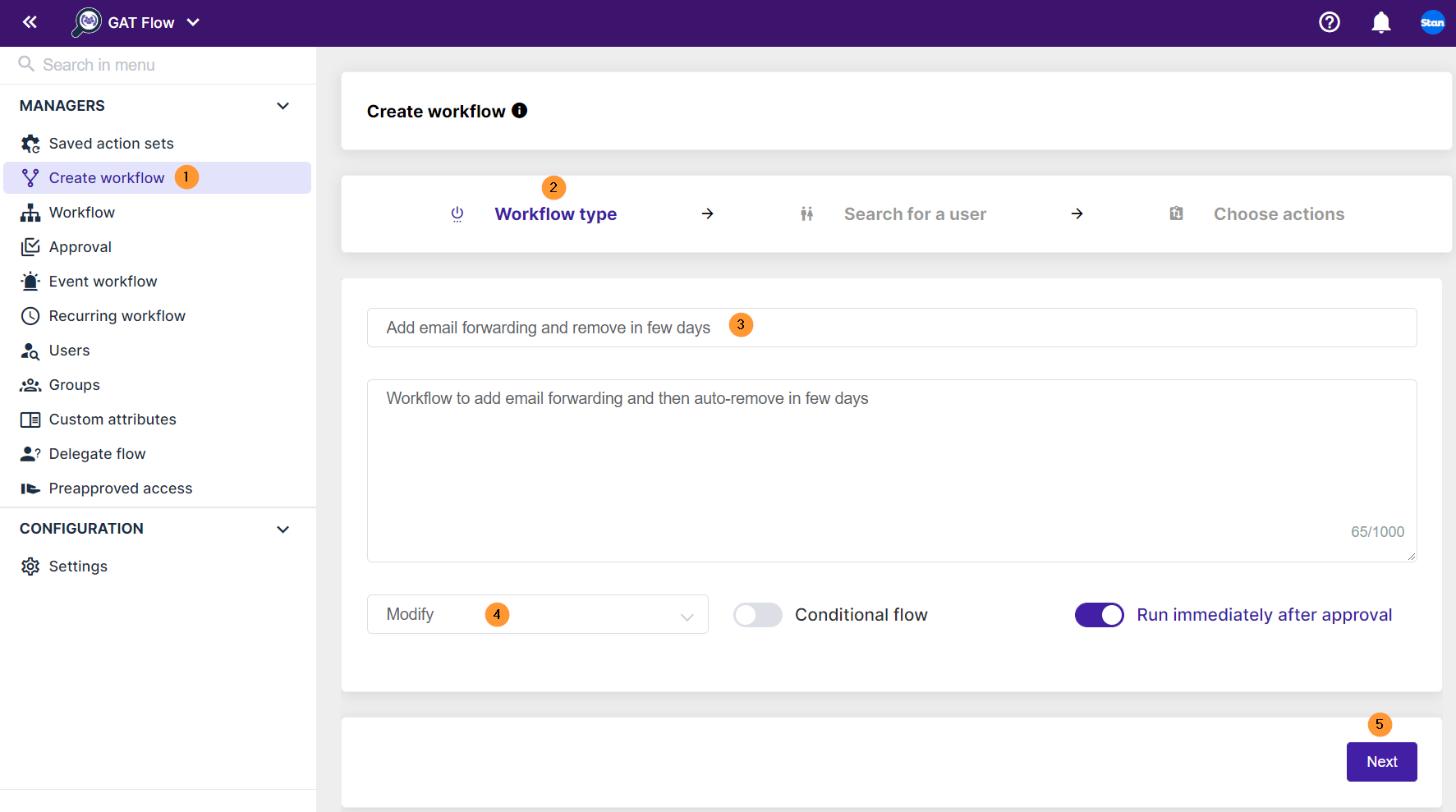 In the next step, Search for a user – search for the user (or users) you'd like to set the forwarding for.
Enter the users individually, by group, or as part of an org. unit, or import them directly via spreadsheet.
Proceed to actions – click to proceed and take actions on the chosen users
Next, In Choose actions – select the actions you want to take.
Click on the + button (2) to add actions.
A menu with all the options will be displayed. Search and pick the action called "Delay workflow".
Delay workflow #
The delay workflow can be set for any time needed.
Note: Delay workflow – Delays workflow for the specified time. You should also expect a marginal time delay for processing after the delay action.
Count – enter the value you need
Unit – select any of the units available

Minutes – enter the minutes for the delay
Hours – enter the hours for the delay
Days – enter the days for the delay
Weeks – enter the weeks for the delay
Months – enter the months for the delay
Custom – select a specific time when the workflow to "resume".
Pick any of the actions you need, in this case, Set email auto-forwarding
Set email auto-forwarding
Delay workflow 
3. Remove email forwarding – search and select this action
Remove auto-forwarding (4) – select to remove the forwarding
Send approval request #
When the actions are selected send a request for approval.
Note: If pre-approval is enabled no approval will be required.
Click on Send approval request 
Note: This workflow can be saved as an action set for use again at any time.
Result #
When the request is approved the workflow will run and email auto-forwarding will be set.
You can check the users in question under the Users tab and see if Email auto-forwarding is enabled.
After the "delay" time, the auto-forwarding will be automatically removed.
The first action to set up email auto-forwarding will take effect – as below. The delay workflow (3) will also be initiated.
In the Workflow, you can see the details
Job-status – Delayed
Delayed until – (showing the time) when the additional actions will take effect.
Related Posts #