GAT Flow allows Google workspace admins to add the title of the user automatically to their Gmail signatures as the user wants to be addressed.
Create workflow #
When Flow is launched, click on Create workflow.
Under the Workflow type, key in the name of the workflow, select the Modify option and move forward by clicking Next.
Select user #
Under Search for a user select any users you need.
You can add individuals, groups, or org. units.
When users are selected click on Proceed to actions.
Actions #
To Add action or Add actions set, please select the plus button shown in the screenshot below accordingly.

If the process hasn't been set before, please use Add action button and create the node.
Select the action Set address me as from the displayed list.
Once the action is selected, the way the user should be addressed can be implemented.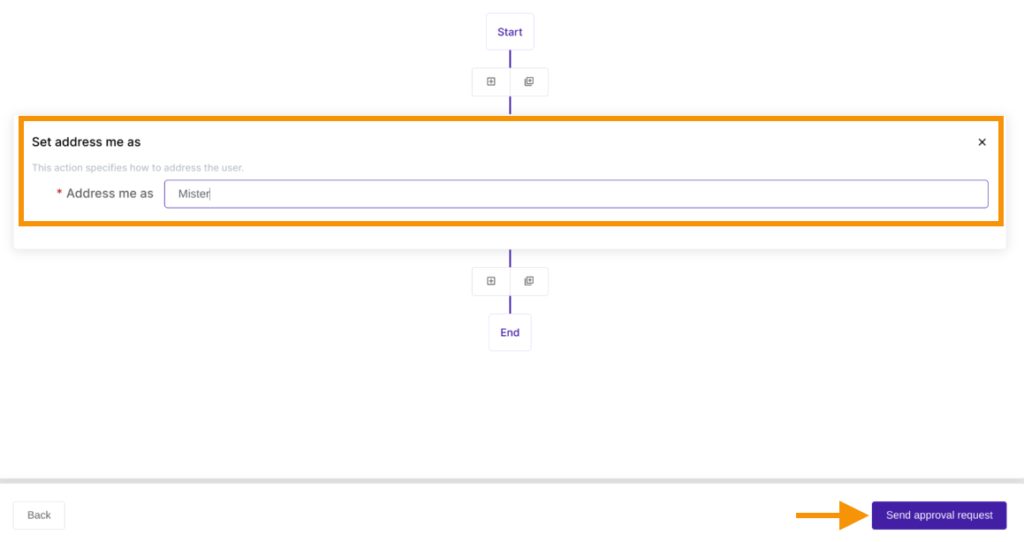 Once ready click on Send approval request – under the menu on the left
The workflow will be submitted for approval to the Security Officer.
Security Officer #
The Security officer will receive an email notification for approval.
Once approved, the action will be triggered and the title of the user(s) will be added to their signatures if the Address me as a variable was selected while setting the user's signature.
More details of how to set the user's signature can be found here: