Introduction #
GAT+ is an extensive tool for your Google Workspace domain. The Admin is present with a detailed view of the entire Workspace domain's Google Drive. GAT+ retrieves the metadata and displays it in a readable manner. In this post, we will be focusing on GAT Unlock. GAT Unlock allows you to make changes to the metadata which will directly change the actual contents across Google Drive or Gmail.
Taking an Action with GAT Unlock #
The admin can replace the current sharing permissions to the entire domain's Google Drive files. This can be done using the File management menu.
Open the GAT+ > Drive > Files
Find the files to which the permission needs to be changed. You can use any search Operand to find the files, either that's Title, Description, Creation date, Updated date, and many more search operands.
When the result is displayed and you have the results you needed.
Select all the files you want to replace the permissions by clicking on the check-mark beside the name of the file.
To select all files click on the checkmark beside Titles.

Click on the File operations button and select File management.
A new window will be displayed called File management.
In File management you can change:
change ownership
add permissions
remove permissions
replace permissions
Remove editors, readers, and commenters as well as remove all external editors, readers, and commenters.
Click on the individual tabs or click on next to go to the next tab.
In Replace tab pick and select what replacement is to be done.
Note: The changes that can be done are as follows:

All the Roles (Contributor, Viewer, Commenter) can be replaced with the options:

domain with link
everyone (as it is)
everyone with link (as it is)
email@domain.com (email address of user or group from your domain)
domain.com (domain address only – anyone in domain)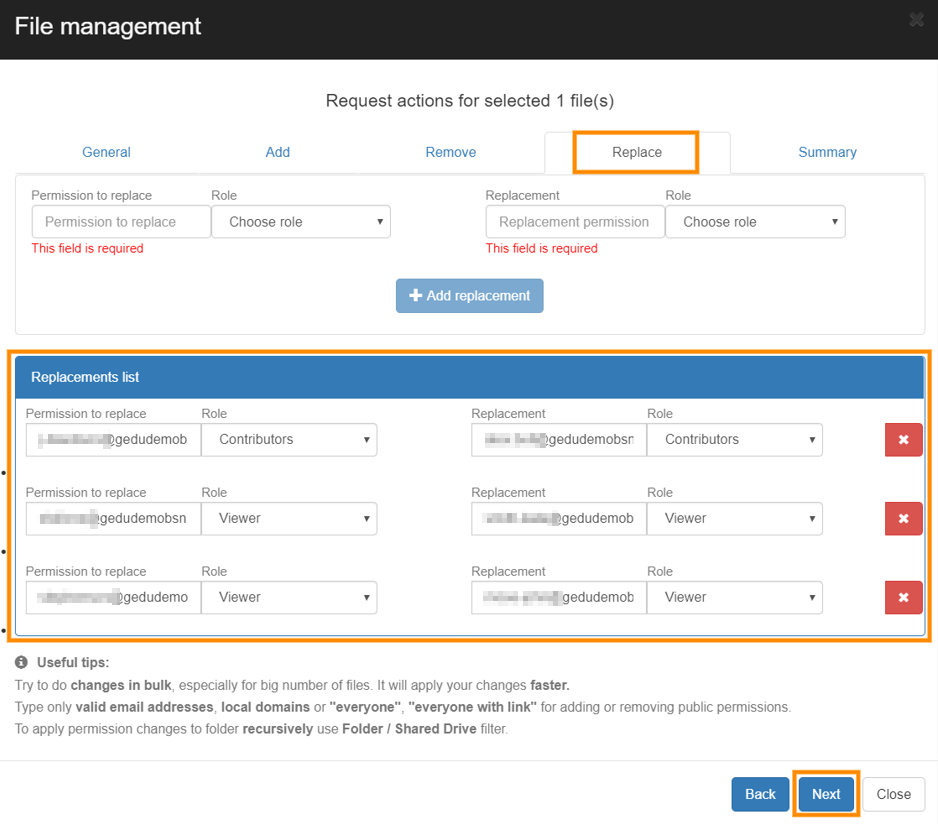 Press next then you can view the summary of what are the changes that will occur. Click Send a request to the Security officer.
The request will be sent for approval. The security officer will receive an email with a link leading them to the approval page.
All the progress can be checked in the Admin log panel.
The permission replacement will be displayed in GAT+

By default, the commenter is also a viewer to the document
The setup permissions on the document are replaced.
This method can be used to replace existing permissions and replace them with different users and in the selected document.