If you have problems running GAT+ for the first time it is usually a simple problem. Don't panic it is easy to fix.
HAS A SUPER ADMIN FROM YOUR DOMAIN EVER USED GAT+? #
To check if GAT+ is already installed click on your Google Apps button and navigate to the 3rd party apps section, you should see the GAT+ logo.
Alternatively, you can navigate to your Google Workspace Admin Console.
Navigate to Apps  > Google Workspace Marketplace Apps > Apps list > GAT+ 
Make sure it's enabled for everyone and Data access is granted, this post will guide you through the process.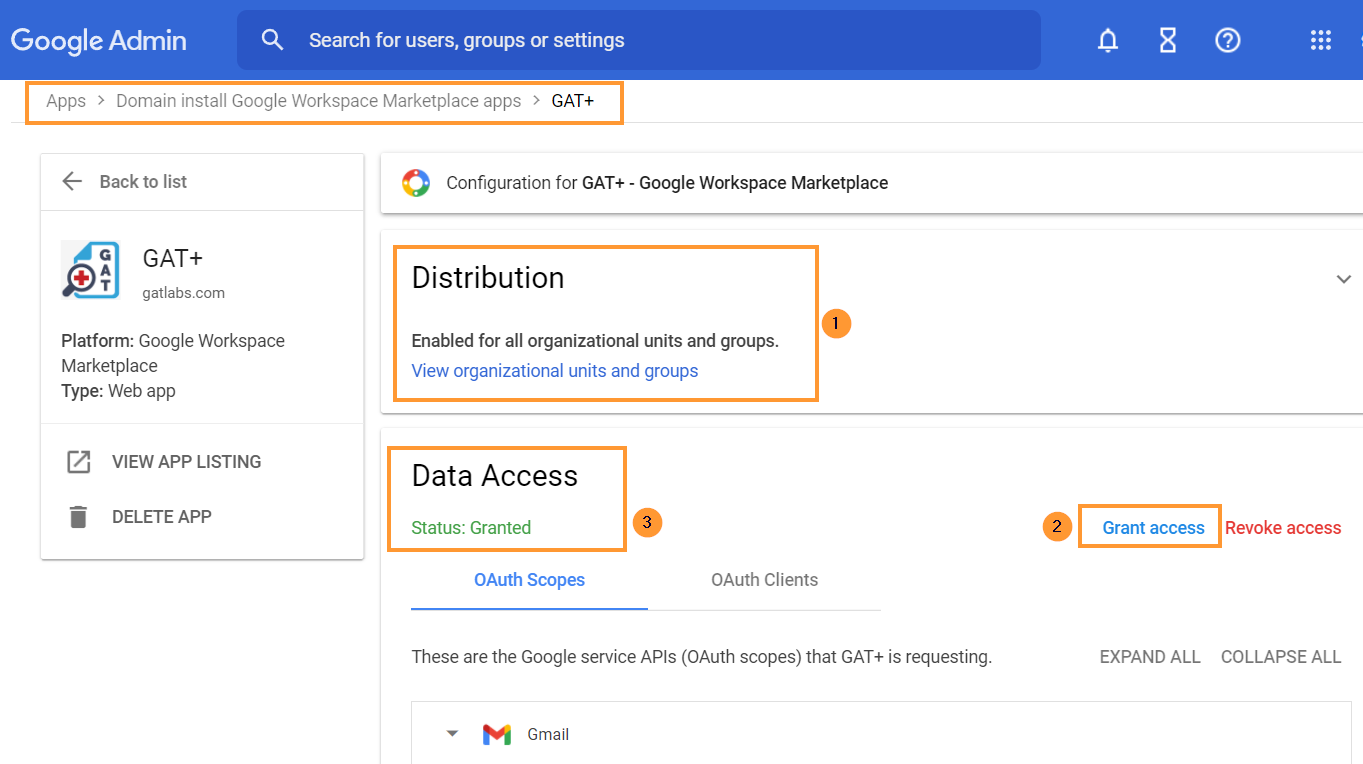 Still, having problems? do you need a fresh trial license?
IS YOUR DOMAIN TRYING GAT+ FOR THE FIRST TIME? #
Navigate to the Google Workspace Marketplace the tool can only be installed by a Google Workspace Super Admin via the DOMAIN INSTALL button.
You can not install, from an incognito window unless you are signed in to your Super Admin account.
Important Note: GAT+ should be installed in the root Organization Unit ('/' – marked as 'On for Everyone').
IN GAT+ ARE SOME AUDITING AREAS EMPTY? #
In Google Workspace Admin console select Security
Navigate to Apps > Google Workspace > click on Drive and Docs then click on Features and Applications
Select the root Org. Unit and make sure the Drive SDK is ON
PLANNING ON USING EMAIL DELEGATION WITH GAT UNLOCK? #
You can use GAT Unlock to remotely set mail delegation for any user account.
As a Super Admin, you can give any user mail delegation access to another user's account.
Navigate to Apps > Google Workspace > click on Gmail > then click on User settings
Turn ON the option to set Mail Delegation.
HAVE YOU ENABLED GOOGLE CLASSROOM AUDITING? #
Navigate to Apps > Google Workspace > click on Classroom  > then click on Data access
Click on to enable Classroom API then Save