GAT Flow is a User management tool (part of the GAT Suite of products). It allows Google Workspace Admins to Onboard, Offboard, and Modify users of the domain.
It also allows taking bulk action on multiple users at the same time.
Delete app-specific password is one of the actions that can be taken using Flow.
*Note: App Passwords can only be used with accounts that have 2-Step Verification turned on.
This action can be applied in Offboarding and Modifying workflows, including Event and Recurring workflows
Set up Flow #
Navigate to GAT Flow
2. In Flow, click the Create workflow button in the left-side menu.
3. In Workflow type:
Enter the Workflow name
Select the workflow type – Modify or Offboarding
Click the Next button to proceed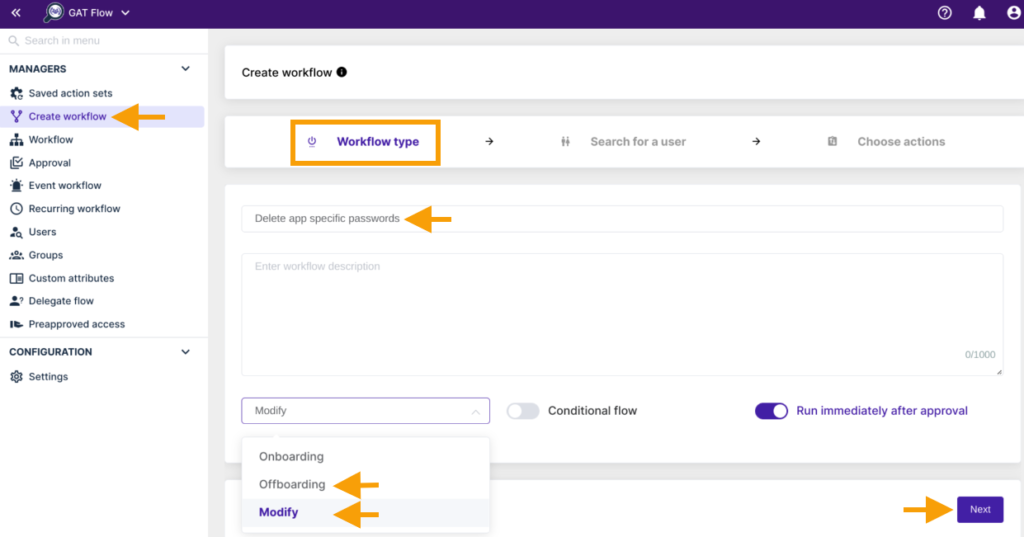 4. In Search for a user:
Enter the users needed by adding:

User
Group of users
Org. Unit of users
5. Click on the Proceed to actions button
6. In Choose actions:
To Add action or Add action set, please select the plus button shown in the screenshot below accordingly.

If the process hasn't been set before, please use Add action button and create the node. 
From the menu that appears, select the Delete app-specific passwords option.
Once the action is selected, it will be added to the workflow.
7. Click the Send approval request button.
Security officer approval #
The security officer will receive an email for approval unless pre-approval is deployed.
This will take them to the Approval page, when approved the job will be set to run.
Result #
When the request is approved, the App-specific passwords for the selected users will be deleted. The result can be seen in Flow > Workflow
The app-specific passwords can be found in Google Account settings
When the Flow job has run, the App passwords will be removed.