GAT+ is an auditing and reporting tool that Google Workspace Admins can use to manage their workspace environment easily. The admins can also view the no. of emails sent and received by any or all users in your domain. This functionality gives a great overview of the emails exchanged internally and externally. Apart from auditing functionality, GAT+ can be used to schedule the users' email exchanges report as required.
Find Exchanged Emails and Schedule Report #
Navigate to GAT+ > Email (1) > User statistics (2) > Summary Statistics (3)
Next, click the filter (4) icon. A window would pop up.
In the pop-up, change Type (5) to Stats By Date Range and Users.
Select the desired date range (6).
Fill in '/' in Org. Unit and check box for Include Sub. Org. (7).
Check the Scheduled (8) box and then select the occurrence time. In the example below, the occurrence time is set as 'Every weekend' to receive the reports every weekend. Other available occurrences are: Once-now, Every day – this time, Every day – after midnight, Every weekend, Every first day of the month, Custom, and After every scan.
Check the Enabled (9) box to enable the schedule.
Then, choose and select the recipient's email who would receive this report in the Recipients (10) field.
Finally, save and schedule the applied filter by clicking Apply & Schedule (11) at the bottom of the pop-up window.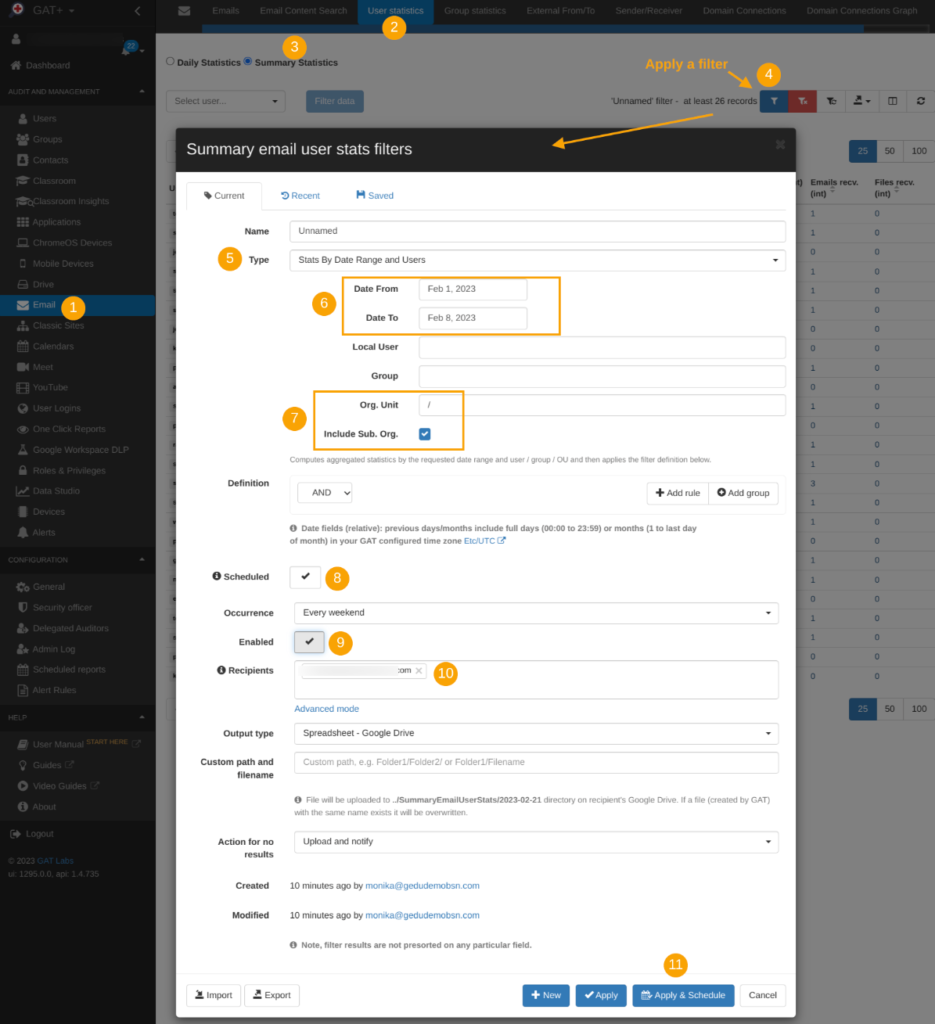 Results #
The report will be generated and sent to the Recipients specified in the settings every weekend and will contain the report on the no. of emails exchanged in the last week since the last report.
The report provides an overview of the email sent and received (internally and externally) domain-wide (for every user in the domain). This is because Org. Unit was set as "/" and Include Sub. Org. was also selected. This setup will target top-level (parent) Org. Unit and their child organizational units. To select a specific OU or group of users, change the settings accordingly.
Since the Occurrence time is set as Every weekend, the report will be generated every weekend and the date range will automatically be moved forward every time the report is generated.
Related Posts #