GAT+ is an Audit tool for Google Workspace domains. It allows an extensive and detailed audit of the Drive and Email of the domain.
If you have a requirement to report on a daily basis all external emails sent to a list of users or sent from a list of users then follow these steps.
Navigate to GAT+ > Email Audit > User Statistics > under the Daily statistics select the User and Date.
The result will show you statistics for the selected date and user.
An admin can check-in and export this data into a spreadsheet at a glance. This allows a global overview of all emails sent and received from this user, and if they used an alias account it will show how many emails they sent or received with the alias.
Note: The search example above was for individual users and not a Google group or alias.
Finding all emails sent/received by a Google group or by members of an Org Unit #
We can also find emails Sent to and From an email, but from the perspective of an Email Group or alias account.
Navigate to GAT+ > Email Audit > User Statistics > Daily statistics.
Select 'Apply custom filter' on the right-hand side, a new window will pop up.
Fill in the filter details
Type – Stats by Date Range and Users
Date From – select the date from
Date To – select the date to
Local user – select user of your domain
Group – select a group of your domain  
Org. unit – select an org unit of users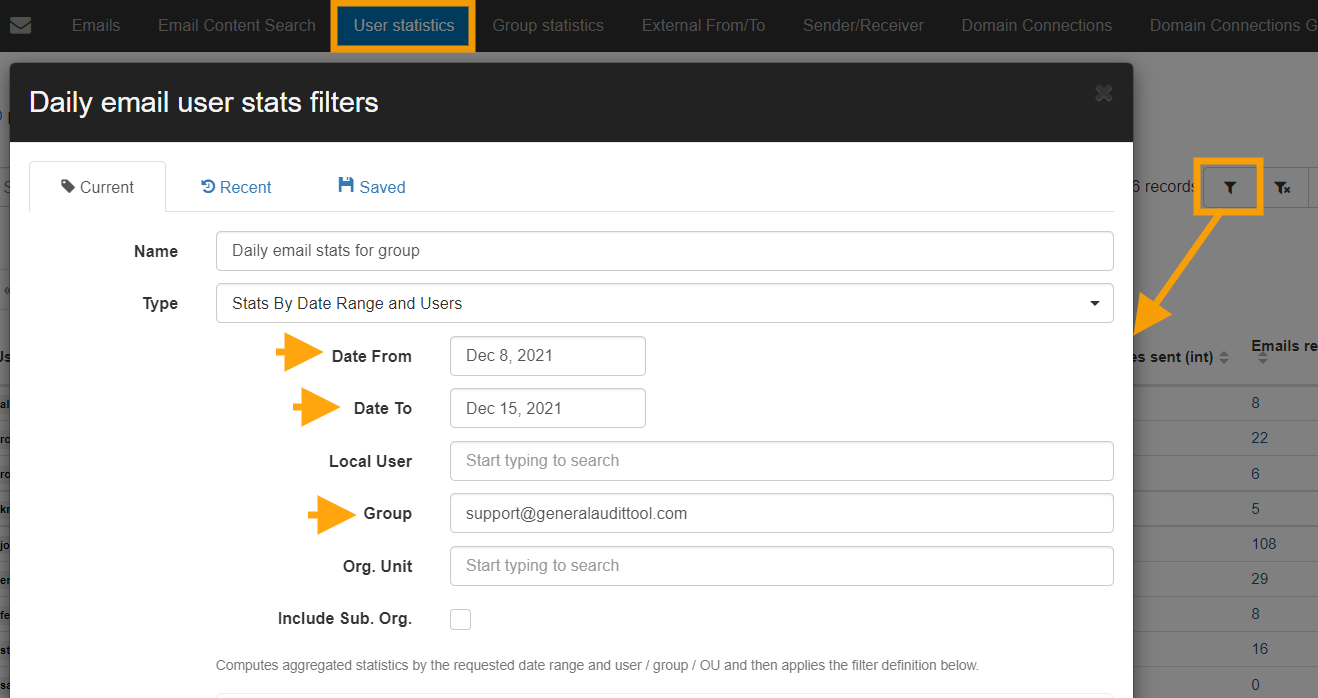 The results will list out all of the members of the Support Google Group and all of the aliases they used to send or receive emails on the selected dates.
To create this report as a scheduled daily report, follow these steps:
Select "Scheduled"
Pick the occurrence as "Every day – after midnight".
Choose the list of recipients 
Activate by pressing the 'Apply & Schedule' button.
Note: When you select "Apply & Schedule" the result will be displayed right away.
Each of the stats numbers can be selected and it will lead you to the exact emails
A report will be generated on a daily basis and the recipients will receive an email notification every midnight with the spreadsheet of the result.
In the spreadsheet, the 'User' column is the account that was used. The 'Email' column is the email alias from which the email was sent.