A Google Workspace Super Admin can add a user, group, or Org Unit as an auditor monitoring over a scope of a user, group, classroom, or Org Unit.
Why is a Delegated Auditor needed?
By default the GAT Shield tool can only be used by Workspace Super Admins, regular normal users are not prohibited to enter the tool.
Example of Using Delegated Auditor by a School District
A school district in Texas, USA has a Google Group for their lead-teachers who regularly need to assess and track the performance of students who have been misbehaving or falling short on their performance. The Workspace Super Admin can give those head-teachers selective monitoring oversight while ignoring other students within the GAT Shield console.
Best of all for Super Admins, after setting up a few delegation policies, can have these policies exported to a spreadsheet, which can be manipulated in bulk, and the changes imported to take effect.
A delegated auditor can be configured from the GAT Shield Console settings area or the GAT+ Console settings.
Under Configuration in GAT+ or Shield console find and click on Delegated Auditors.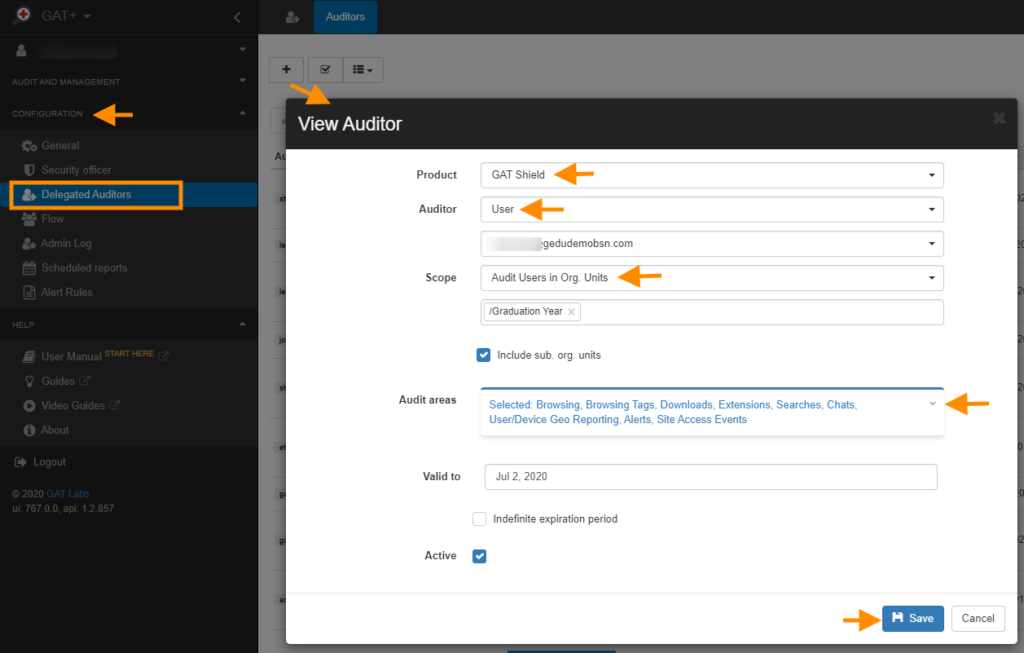 Clicking on Access Area, you will be able to choose what areas to be visible for the Auditor.
You can Enable some and disable other audit areas.
Note: It will take some time for the Delegated Auditor to become recognized please allow for 30 minutes at least before informing the new auditor.
When the Delegated Auditor is logged in they will have access to selected Audit areas of the tool.
The auditor can scroll through the Audit sections to audit the users from the scope given.