Occasionally mistakes happen, if they do, with our policy enforcement feature, GAT offers you the way to back out partially, or fully, and restore the permissions removed from the documents.
The Security Officer can revert the changes done by the Admin and approved by the Security Officer.
When a policy has been enforced you will receive an email containing the details of the policy changes and a requested time which you can then search for.
Navigate to GAT+ > Configuration > Security officer > File management tab.
Under 'File management' you can view all changes requested by your Admins.
If you know what File Management job was used to remove the permissions, you can restore them directly – Revert 
If not sure what File management job was used to remove the permissions, you can use the details view (eye icon) – Revert changes
You will receive the 'Confirm action' tab where you have to confirm if you want to revert the change.
Once this is done, the revert option will be removed and the status will be changed to "Reverted".
This will revert the change and restore the previous permissions to the Files (owners, sharing permissions, etc)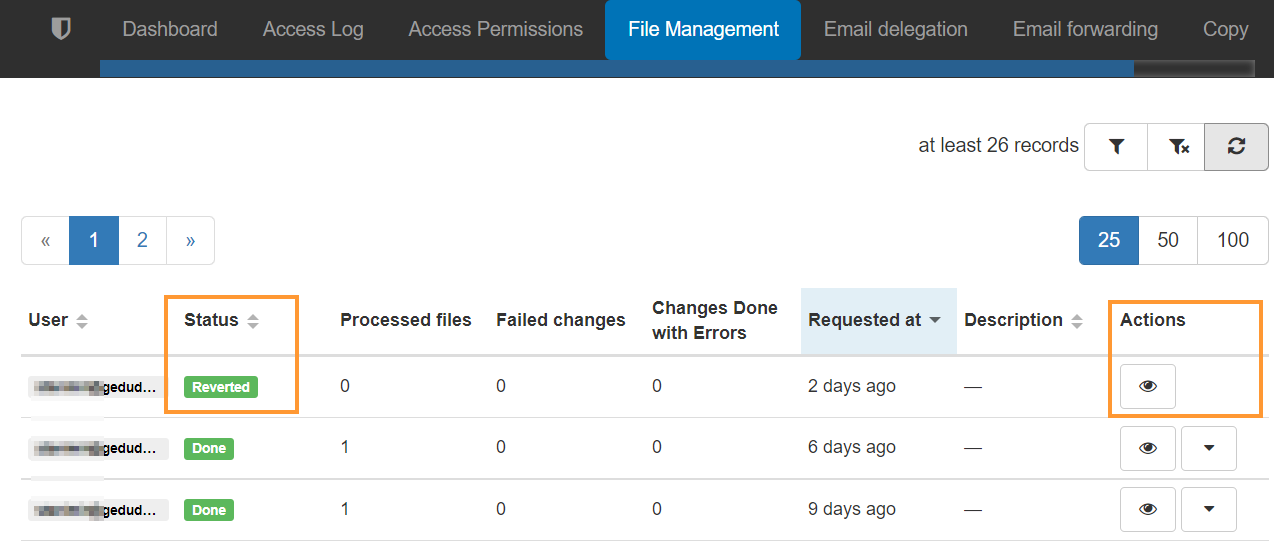 You can apply different search parameters to restore the removed permissions.
"Changes done with errors" – actions that could be partially completed 
"Description" – search by description added to the job
"Failed changes" – what has failed
"Last update" – last updated changes
"Last updated (relative) – last updated relative to time
"No of files" – number of files
"Processed files" – list of all files that were processed 
"Requested at (relative) – enter number of files that were processed 
"Status" – enter the status of the job
"User" – enter users who requested the FM job